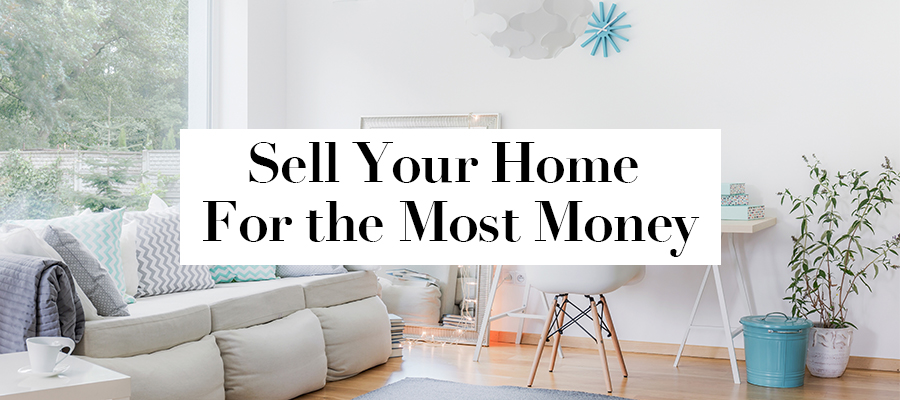 The way to sell your home for the most money is by understanding the real estate trends in your area, strategic marketing methods, and choosing the right Realtor. Believe it or not, the highest offer doesn't always guarantee you the most money. There are other considerations like the buyer's qualifications, home repairs, real estate commissions, closing costs and more. Let's review these.

1. Understanding The Real Estate Market in Your Area
The real estate market is always fluid. So much of it depends on the area that you live in. When there are more homes for sale than buyers, it brings the home prices down because the sellers compete for every single buyer. This is called a buyers' market. However, when there are more buyers in the market than there are homes for sale, that brings home sale prices up. Now the buyers compete for fewer homes. This is called a seller's market. When you contact me about selling your home, I can let you know what kind of market we're in today. This will help determine your asking price of the home.
2. Timing Your Home Sale
Many times homeowners haven't built up enough home equity to offset closing costs, and moving costs unless they have been living in their home for at least five years. Timing of the sale may conflict with other life events like a job relocation, starting a new family, or even caring for elderly parents. These have financial impacts on the home selling process also.
3. The Right Listing Price
It may be hard not to fall into the temptation of overpricing you're home. Especially if you've spent some money by adding some recent improvements. Unfortunately when sellers do this, the home ends up on the market longer, and results in the homeowner having to continually lower the price - ultimately below market value. Also, as time goes by, the prospective buyers tend to become skeptical of homes where the list price is continually declining. It suggests that there is something could be wrong with the home, or that the seller has unrealistic expectations. This definitely limits your negotiating power.
I can give you a free, accurate market value assessment of your home. Call me at 630-546-7877

4. Minor Renovations Can Add Value
If your home is in need of a quick coat of paint to spruce it up, now would be the time to do it. A fresh coat of paint can make a big difference. Also, modernizing your kitchen and baths will add immediate value. This can be done with minimal cost if you are willing to take some time for a DIY project. There are other ways to add modern touches without spending a fortune. When you contact me to assess your home, I'll give you some advise on how to make your home look it's best for showings.
5. Accepting The Best Offer
Many people are mistaken in their thinking. They believe that highest offer you receive is always the best. This is something that you must be careful to consider, and don't blindly accept it without reviewing the terms. Most offers include contingencies, which are a set of terms in your contract that allow either the buyer or seller to cancel the agreement if those terms aren't met.
Here are a few examples of purchasing contingencies:
Financing Contingency
A finance contingency lets the buyer cancel if they don't qualify for a mortgage. If you accept this contingency you run the risk of wasting time, having to re-list your home. The best practice as a seller is to only accept offers from pre-approved buyers.
Home to Sell / Home to Close
A home sale contingency allows the buyer to be sure that they will have the proceeds from their existing home before they purchase another home. There is a risk that the buyer's timing doesn't align with yours, or the buyer isn't able to sell their home, giving them the right to cancel the contract. If this comes up with your listing, I will talk you through it. Many homes priced over $300,000 receive home to sell or home to close contingency offers.
A home to close contingency is much better than the home to sell contingency. This means that the buyer has already sold their home and they are just waiting to close. In this case, I will look into the people purchasing their home to make sure they are properly qualified to purchase.
Home Inspection
The home inspection contingency provides a way for the buyer to negotiate for repairs, rescind their offer if the home inspection turns up a major issue that was not disclosed.
When you are ready to sell, we will discuss all of this and more!