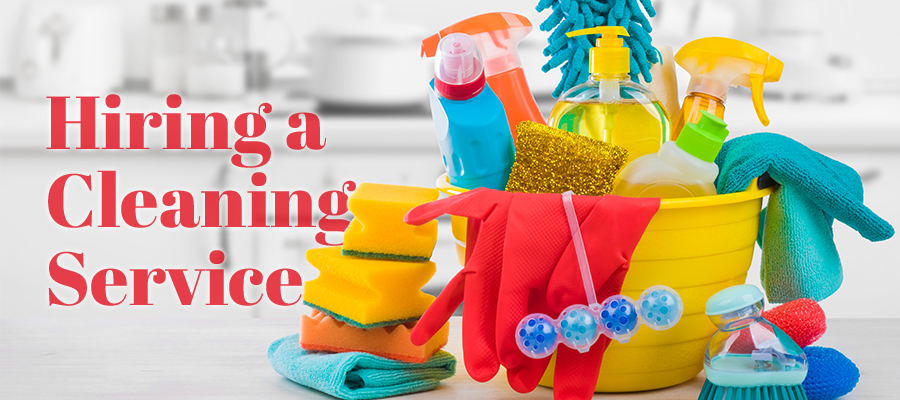 Have you ever thought "I wish I had a maid?" Anyone who has the responsibility of cleaning their home has probably had the desire to hire someone to take care of the routine chores. Wondering if it's an indulgence that is reserved only for the rich and famous? Not anymore! If you hire a cleaning service, does that mean you're lazy? Definitely not!

Cleaning services may not as costly as you imagine. A tip to save money: You don't have to use them every week, or even every month. You can just use a cleaning service before the holidays, for example. Also, to afford a cleaning service, you can try cutting back on other things, like gourmet coffee and pedicures, to have extra cash. And, if you're planning on selling your home in the near future, it's a good idea to have a cleaning service do the hard work for you!
Questions to ask a cleaning service:
How long has your company been in business?

Are you and your employees insured?

What services do you provide?

Can you give me an estimate?

Do you guarantee your work?

Will the same people be cleaning my home each week?

Do I need to be home when you clean?

Do you supply cleaning products and appliances, or do I need to provide them?

How to Hire the Right Service
Ask friends, family and neighbors for some recommendations.

You can also post your request on FaceBook. You may soon have quite a few companies to call.

Make a list of what you'd like a service to do: Full-house cleaning? Seasonal cleaning? Laundry?

Then, you can determine what kind of service you need to contract.

Interview services on the phone as you would any employee you were thinking about hiring. Check them out with the Better Business Bureau to make sure no complaints are lodged against them. Then ask for referrals from their current clients, and be sure to follow up with them. Also, consider asking your real estate agent if they know anyone.
Mistakes to Avoid
1. If you're going to hire a service, don't clean before they come. That defeats the purpose.
2. Remember, they can't read your mind about how you want things done and where you want things put away. Share a list with them including all the important details.
3. Even though you're paying for the service, give tips to the individual cleaners. Be sure to give them compliments; everyone likes to have positive feedback. If you have problems with the cleaning company, be constructive and use specific examples of what you are unhappy about.
4. Finally, remember to use your time off productively. Be kind to yourself— Enjoy the time off.