I'm sure you have heard that exercise boosts mental health as well as cognitive function in everyone, including kids.

The shelter in place order, due to Covid-19, can jeopardize kids' physical activity during a time when emotional benefits that exercise provides is definitely needed. Between schools being closed, team sports cancelled and the stay-at-home order, kids of all ages (along with their parents) will have to find other ways to keep active. This is very important right now, as this global pandemic has been igniting fear.
Here are a few ideas to keep kids entertained and active while at home:
For Younger Kids
Back to the old days of riding bicycles, taking short jogs, 2 square, shooting baskets in the driveway, running hills at a local park. Going outside to play is fine, as long as other kids aren't too close by (according to the top health experts).
For the kids who don't have access to a big back yard or nearby parks, there are other alternatives. There are several online sites now that promote healthy eating and exercise through music.
• H.Y.P.E. at Home teaches hip hop dance moves to kids of all ages.
• GoNoodle is another free online site that engages young children with videos and games. The site describes its games as "designed to tire kids out."
• Physical Education Network offers a variety of games and resources for K-5 that include yoga, rhythm and movement, and mindfulness.
• Persil Wild Explorers App has outdoor exploring activities of varying lengths for children and families. Some of these are geared for right outside the home.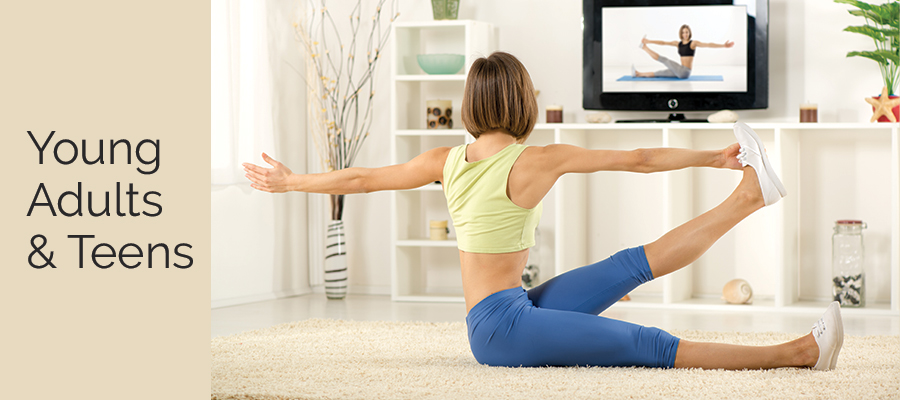 For Teenagers and Young Adults
Teens and young adults can benefit from simple calisthenics and stretching exercising. Mom and dad can clear out some space in the basement or even in the driveway and arrange "stations" for different exercises. It can even become a contest between family members: how many push-ups, sit-ups, jumping jacks, can a they do in 30 seconds? Then try a minute.
There are so many online workouts & apps now that have a variety of intensity.
• You can try the app JeFit to build personalized workout programs of all kinds, including many for a home without exercise equipment.
• Freeletics has training programs for all levels and connects you with a digital coach.
• Pocket Yoga is an app for yoga enthusiasts, and can be done anywhere including alone at home.
• Down Dog is very similar, but adds high-intensity interval workouts and seven-minute sessions.