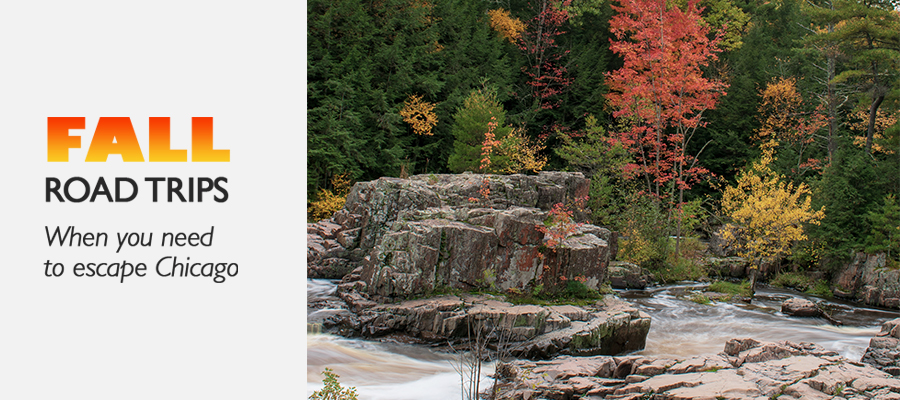 Fall is beginning to set in, and along with that is the urge to escape the hustle and bustle of our work and our daily routines. And although in the vast Chicago area, the local farmers markets may provide a temporary seasonal fix, there is something special about loading up the car and setting off toward to a new destination. Fortunately, there are many nature-scapes and charming places to visit nearby. Here are a few to consider:

Right Here In Illinois
Illinois Beach State Park
If you just have time for a quick day trip, try heading up north to this natural wonderland near the Wisconsin border. The Illinois Beach State Park will provide a peaceful interval without a huge time commitment. Illinois Beach State Park is located in the town of Zion, where you can relax along the vast shoreline, ride the scenic biking trail, or hike beneath the oak savannas. This 4,000 + acres of diverse terrain is abundant with opportunities to view colorful birds passing through fall migration. You can also check out the numerous nearby forest preserves and river trails including Van Patten Woods, Des Plaines River Trail, and the Pine Dunes Forest Preserve.
Starved Rock State Park
Often considered the most popular state park in Illinois,Starved Rock State Park is located in the historic town of Ottawa, IL. It's known for its steep sandstone canyons formed by glacial meltwater; the tall bluffs and canyon waterfalls provide one of the finest outdoor experiences in the Chicago area. Starved Rock offers the finest hiking and camping destinations around, boasting 18 glacier-carved canyons and more than 13 miles of trails. A wooded trail leads to Lover's Leap Overlook, with views of the river and Starved Rock Dam. Park wildlife includes white-tailed deer, bald eagles and migratory bird. If you're looking for a beautiful scenic trip right here in Illinois, Starved Rock State Park may be the perfect destination. And if you decide to spend the night, try the Starved Rock Lodge. You can add to your experience by trying the Fall Color Trolley Tour or Autumn on the River Cruise. Restaurant options span two town centers: Utica and Ottawa. Each is have wonderful wine bars and tasting rooms like August Hill Winery, friendly pubs in the form of Lodi Tap and stellar breweries like Tangled Roots Brewery Company!
Shawnee National Forest
Nestled between the Mississippi and Ohio Rivers, Shawnee National Forest is a beautiful stretch of approximately 280,000 acres covering a large portion of the southern tip of Illinois. It is the perfect spot to take a much-deserved break from the every day hustle and bustle. The Shawnee National Forest is abundant with natural beauty, making it ideal for all types of outdoor recreation. This Forest's landscape features rolling hills, forests, open lands, lakes, creeks and rugged bluffs.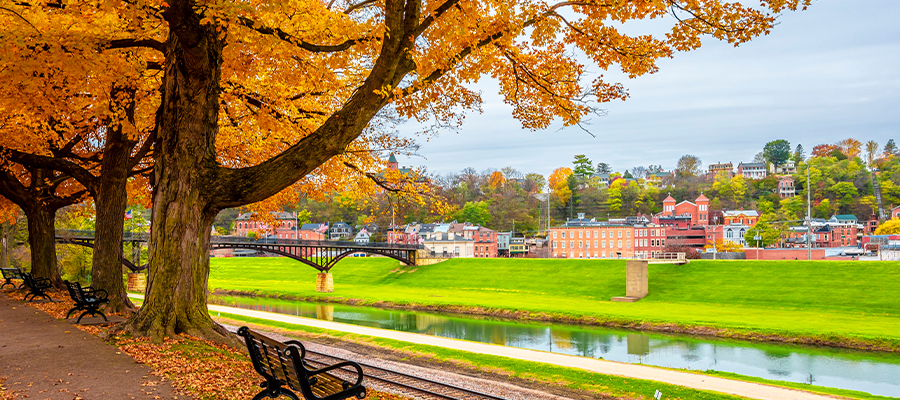 Galena
Noted as one of the best small towns in America, Galena has it everything you need, from strolling cobblestone streets to historic mansions and scenic rolling hills. Galena's Historic District is home of more than 1,000 buildings constructed before 1900 - including the former home of Ulysses S. Grant, the Civil War general. Galena.
Galena County has a something for everyone. You can take on an outdoor adventure along the Mississippi River & spend hours exploring historic sites. Tap into your into the rich local flavors by browsing the endless boutiques and shops featuring exquisite works of art from local artists. Take a trip in a hot air balloon, or a trolley around town. You can even tee up a round of golf on our championship greens.
Neighboring Indiana
Michigan City
Located on the southern shore of Lake Michigan in Indiana, Michigan City is a delightful lakeside city that offers a wealth of interesting things to do from arts and culture to shopping, dining, and outdoor activities. Attracting thousands of visitors to the Indiana Dunes and the Lake Michigan shoreline, this lakeside city offers many attractions, including Lighthouse Place Premium Outlet shops, The Washington Park and Zoo, Blue Chip Casino Hotel and Spa, and Lubeznik Center for the Arts.
The Beautiful Wisconsin
Door County
Known as the "Cape Cod of the Midwest," Door County is a picture-perfect convergence of more than a dozen little villages situated on a 75-mile peninsula surrounded by Lake Michigan and Green Bay. With 53 public beaches, five state parks, and 300 miles of shoreline, there's a lot to in Door County. Fall's smaller crowds and beauty of the season make this a wonderful time to visit. Come to see the thousands of acres of orchards, explore the art galleries, experience the incredible cherry pie, taste the local wines and brews, stroll through five state parks or tour 11 historic lighthouses. No matter what you're looking for, you're bound to enjoy your time in Door County.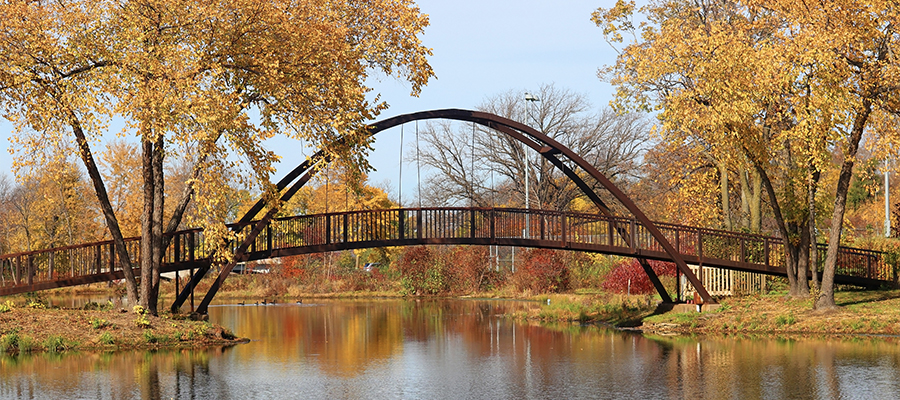 Madison
Although considered a college town, Madison, WI may surprise you. Quality dining and world-class cultural venues with an onslaught of nature activities like hiking, biking and fishing make this a great choice for a fall getaway destination. Apple picking, pumpkin patches and corn mazes await you, with crisp air and leaves changing color all around. Of course you can always check out the local breweries. Some popular options include Robin Room, The Malt House, Working Draft Beer Company, and Cask & Ale.
Lake Geneva
Lake Geneva, WI has been Chicago's number one vacation destination for many generations. It has everything anyone would possibly need in a weekend getaway. And it's only about 90 minutes from the city. As one of America's finest lake towns, it boasts a multitude of activities from boat cruises and hot air balloon rides to a wonderful food and drink establishments. A great thing about Lake Geneva in the fall is that it's tamer than the busy summer months.
Wisconsin Dells
Wisconsin Dells, WI is not only for its collection of water parks, but also for the Dells themselves: A beautiful gorge carved out by ancient glaciers, with incredible views of the sandstone cliffs lining the Wisconsin River. Dells of the Wisconsin River State Natural Area encompass five miles of beautiful hiking trails following the curving river. The Dells also offers scenic tours, delicious dining options, wineries, and festive fall festivals. There is definitely something here for everyone.

Close by - Pure Michigan
Pictured Rocks National Lakeshore
Michigan's Upper Peninsula is a remarkable piece of the Midwest. It's located just outside the traditional five-hour road trip radius, but don't let the longer drive discourage you—Pictured Rocks National Lakeshore is well worth the trip. There are 42 miles of beautiful panoramas along the southern dip of Lake Superior. You'll see spouting waterfalls, immaculate lakes, endless rugged forests, and rocky ridges stretching as high as 200 feet above the shore. Unlike any other place on Lake Superior, Pictured Rocks offers the unique opportunity to explore miles of beaches, hike nearly 100 miles of trails, view towering sandstone cliffs, and experience the serenity of northern woodlands.
Saugatuck, Michigan
Saugatuck, MI is famous for the Oval Beach where you can rent kayaks, cruise on sailboats, and kick back along 10 miles of Lake Michigan. In the fall months, the trees display a variety of beautiful colors, the air is crisp, and the crowds have thinned out, so it is the perfect time for families to enjoy a wonderful weekend getaway to leave lasting memories. Enjoy some apple picking, as well as fresh cider and donuts, at Crane Orchards.
I hope that you take one or more of these suggestions this fall to take time off and enjoy the season with your family!