If you want to update your furniture, add some fresh color to your walls, or just try something new, these projects are perfect for you. And the good news: these DIY home projects do not require any special skills or knowledge!
DIY projects are a great way to personalize your home and even make it feel more like your own. With a few supplies and a little bit of elbow grease, you can totally transform any room in your house. The best part is that these projects won't break the bank either.
Home project ideas to get you started:
1. Paint an accent wall
This seems pretty simple, but can be an effective way to add some visual interest to a room. Choose a bold color start by painting one wall in the room. Painting a few walls will instantly make the space more exciting and inviting.
2. Re-imagine paper lanterns and lamps
If you own any typical paper lamps from IKEA and beyond, there are many ideas for refreshing them. You can try adding some colored tissue, or paper flowers to your lamps. Even gluing on some doilies can make them look instantly elegant! Check out these ideas: https://www.architecturendesign.net/20-amazing-diy-paper-lanterns-and-lamps.
3. Line a cabinet with pretty paper
You can create a colorful backdrop for displaying your favorite glassware and ceramics by lining the inside of your cabinets with leftover wallpaper remnants, or even gift wrap. Remove the shelves of your cabinet first, and then measure up the interior. The design decision totally up to you.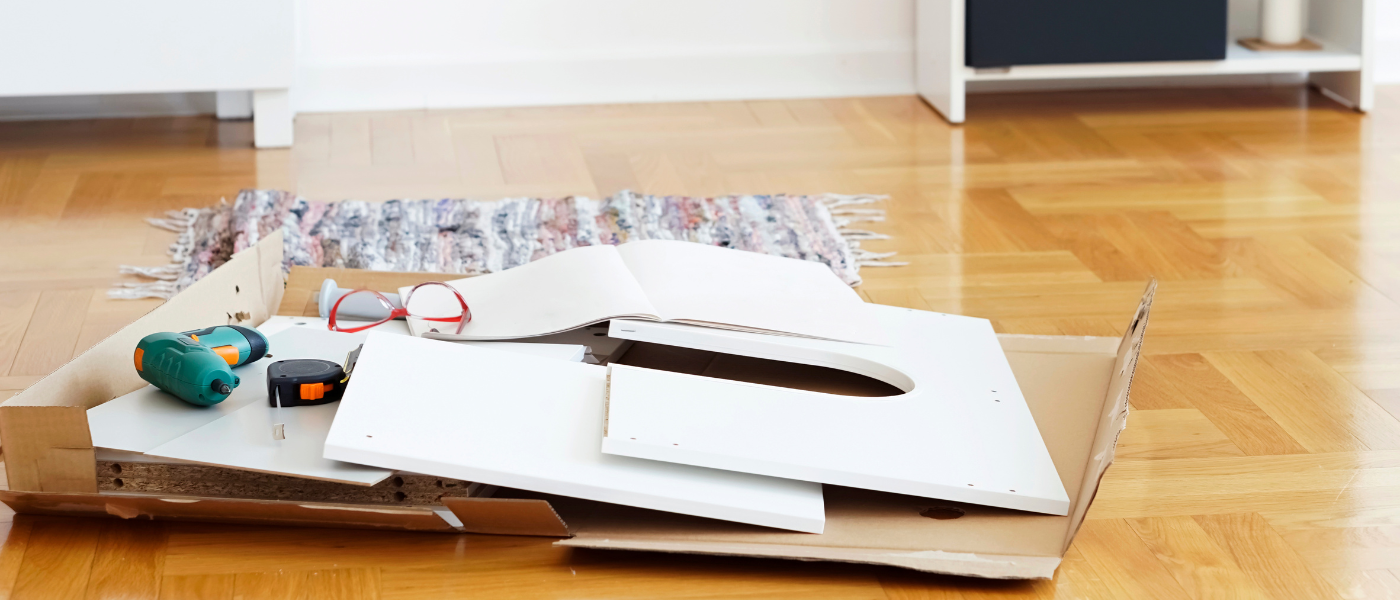 4. DIY a piece of furniture
Giving new life to an old piece of furniture is a great way to save money and add some personality to your home. There are so options; for example, you can strip & paint, or even change the upholstery. It's up to you. The easiest part is replacing the handles with new ones. Next, you can strip off the old paint or varnish, then the surface needs to be smoothed out and only painted. If you choose to replace the fabric, measure the cushions to determine the amount of material that will be needed; be sure to allow a few inches to fold over the bottom of the seat. Remove the seat from the chair. Cut the fabric to fit. Fold it over the seat and use a staple gun to attach it to the seat's underside. Stretch it taut and do all sides. Angle the fabric around the corners before stapling. Then reattach to the chair, and you have a fresh look!
5. Build a pallet sofa
Pallet garden furniture is an interesting addition to a patio, garden, or balcony. It is a great low-budget idea and allows you to create something unique from reclaimed materials.
6. Hang plants from the ceiling
Hang plants from the ceiling to enjoy a fun décor DIY project that can improve your health by adding oxygen and fresh air. Find an area with plenty of natural light for this task and access points on both sides if possible. Locate a stud or beam to attach a swag bolt, or use a toggle bolt to secure drywall. Keep in mind that plastic anchors support less weight from the ceiling than the wall; they are not a good choice for a hanging plant.
7. Illuminate exterior with solar lights
Solar path lights are a wonderful way to add ambiance and safety while cutting down your electric bill. Stand-alone solar lamps come in many different sizes and styles with bright color options that don't require wiring for installation! You should place one every 6 - 8 feet along your walkway or driveway, so it's easy to get back from work at night, knowing there will be plenty of light wherever you go without turning anything else on.
Looking for more ideas? Feel free to contact me!