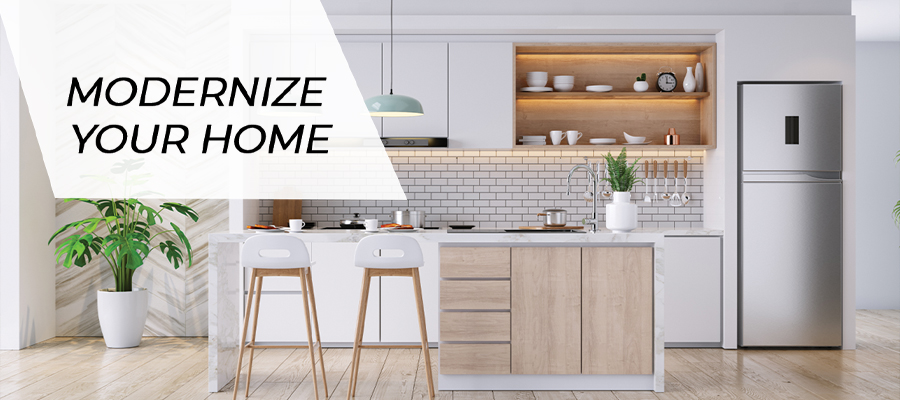 Many of us have spent a lot of of time in our homes this past year. It's probably a safe bet to say you that you've been online quite a bit; possibly even looking at the interior of hundreds of houses - now you may be considering ways you can improve your own home! If you are thinking about making a move, consider these modern interior design trends that can help increase home's value or resale.
It is common to assume that making home improvements can cost a fortune, however, that isn't always the case. If you want to modernize your home, but you're on a strict budget, here are a few ways you can make the changes that you need - and not break the bank!
1. Minimize and Declutter
By minimizing your home, you will create a more modern look and feel, so it's a good idea to start your modernizing with a major decluttering project.
First you need to decide what stays and what goes. A good rule of thumb is, if an item hasn't been used in a year and doesn't add any value to you, either throw it out, or give it away (if it's in good condition).
The key is to do whatever you can to minimize the amount of 'stuff' on display. A minimalist interior tends to calm the mind and is considered a modern way of living.
2. Re-vamp First Impressions
If your doors and windows are worn out, and look old, it can make a property look extremely dated. If your budget allows, you should consider replacing your windows with hardwood or steel frames. If that's not an option for you, try to paint them in a more modern shade. That will instantly improve the look of your home. Use classic and fashionable shades of color like blue, sage green, or soft grey.
Another way modernize the look of your home is to power wash the exterior. If you live in a wet climate, this can take years of dust, dirt, and moss off your siding and roof. It will bring your home "back to life", and even take years off of the overall appearance.

3. Revamp Your Kitchen
There are several ways to bring new life to your kitchen without doing a total remodel and spending thousands of dollars. Kitchen upgrades such as repainting cabinets and replacing handles can definitely modernize your kitchen and make it feel fresh and new.
You can also reface your cabinets, in lieu of replacing them. That is a cost-effective way of modernizing your kitchen without doing an entire remodel.
4. Give the Bathrooms a Facelift
There are several easy ways to modernize your home's bathrooms. First, dated bathrooms will most likely need a deep cleaning. By giving your tile and grout lines a deep clean and scrubbing lime off the sink and bath, it's a perfect start to refreshing your bathroom. From there, replacing accessories like towels, mats, shower curtains, and even toilet seats can make a big impact. Also, consider re-painting the walls with bright, neutral colors and take off dated wallpaper. These small changes can make a big impact on the look and feel of your bathroom.

5. Freshen up Walls
A fresh coat of paint or modern wallpaper is one of the best options when it comes to affordable home improvements. There are so many options for paint colors and wallpaper, it's important to carefully consider color schemes. If you are considering selling your home, neutral colors are recommending.
Dark shades and curtains will make room feeling smaller, but brilliant whites everywhere can feel too cold or stark. Once again, you should opt for neutral tones and soft, lighter hues that freshen up and add warmth without being too intense.
6. Upgrade Your Lighting
A great way to transform the look and feel of your home is with lighting. You can turn dated and dingy spaces into cozy, warm areas. Whether it's a pretty table lamp, some hidden spotlights, or a statement pendant light over a kitchen island, you can modernize your home and create a dynamic new aesthetic with some carefully considered lighting for your home.
7. Refinish Your Floors
Floors can really set the tone for your decorating style. If you want to know how to modernize your home on a budget and have hardwood flooring that is dull and needs refinishing, consider having your floors re-sanded and re-sealed. This can significantly rejuvenate a room and make a big difference in your home's look and feel.

8. Adding Finishing Touches
Modern decor such as lamps, art, rugs, and furniture can be fun, to buy. If you don't have a knack for design, consider hiring an interior designer to assist you. You can also look online for some trendy ideas.
With these tips on how to modernize your home while on a budget, there is no end to the improvements you can make, so have fun with it!