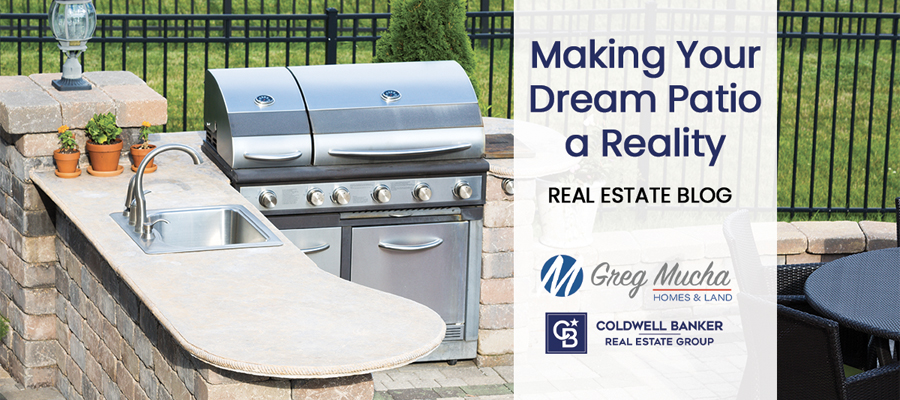 Before you commit to a patio "type", try to envision what the finished space will look like. You probably have an idea of the location and size that you'd like, now just step outside and start making that a reality.

Remember, your patio not only complements your home , it also enhances your lifestyle. If you have a large space to work with, think about incorporating a combination of foundation materials. Using multiple materials allows you to integrate borders that separate an area for lounging from the outdoor kitchen. Think about which materials will suit you best, in terms of aesthetics and practical issues, like maintenance and cost.
THE FOUNDATION OPTIONS
Concrete
Poured concrete is the most popular material of choice because it's structurally sound, inexpensive, and can even be stamped or dyed to mimic higher-end paving materials.
Bricks
Bricks create a warm and attractive patio and comes in a variety of colors. This patio style costs more than a concrete patio, not just for the materials, but also for labor; every brick must be set by hand, leveled and grouted.
Stone
A stone patio is a highly desirable look, but has a steeper price tag. Flat, irregularly shaped stones have a calm and meandering effect, while uniform-cut slabs can produce a more formal looking patio.
Tile
Tile is available in ceramic, glass, terra cotta, porcelain, and natural stone. When done correctly, a tile patio will create beautiful mosaic designs that stay cool in hot climates. Keep in mind, that because tile is thin, it will require a concrete slab.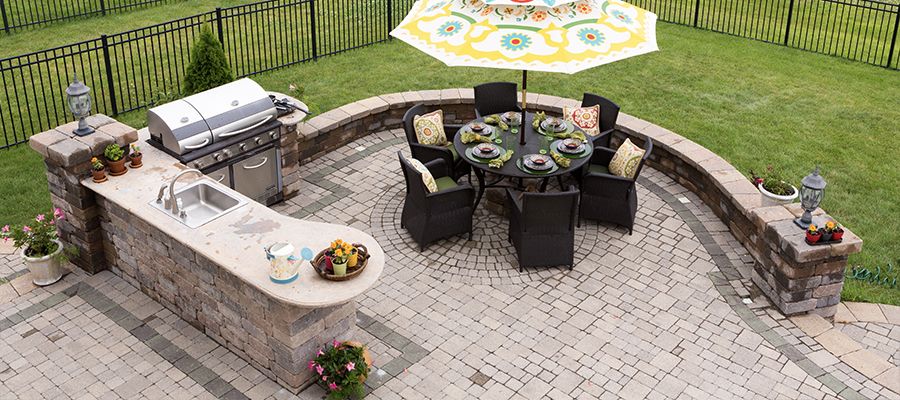 PATIO LIVING SPACE
Purpose: Think about how you are planning to use your outdoor space.
Layout: As you think about designing your outdoor patio space, think about it just as if you were designing the floor plan of anew home. Each area should have a function.
The View: Make the most of the views your property has to offer. You may want to arrange a sitting area to enjoy a cup of coffee and watch the sunrise, or a set up a table and chairs for cocktails at sunset. You should also think about taking advantage of some shrubbery or trees to block out unattractive areas.
Comfort: If your patio gets a lot of afternoon or early-evening sun, you should think about adding some shade for comfort. Umbrellas, covered patios, pergolas, and trees can help shade the area on a hot summer day.
Plants and Flowers: Consider planting "easy-care" greenery around your outdoor living space to keep it low-maintenance. Choose your flower selection wisely, as you don't want to attract bees to the area.
Furnishings: Appropriate outdoor furniture choices depends on the intended use of your space — entertaining, dining, relaxing, or a combination of all three. Select furniture that is comfortable and practical. Be sure it's weather resistant and washable. Don't forget to add a touch of color too.
Add a Fire Pit: When evenings begin to get cooler, you can still keep the party outside. You can extend your outdoor entertaining season by creating a fire pit or fireplace area with comfortable seating!
Lighting: You should incorporate some decorative lighting for outdoor cooking areas to allow more meal prep to be done outside.You can also add lighting to trees or fencing farther out in the yard. For safety reasons, adding lighting is a good idea too, as it brightens steps and pathways.
Not only will your dream patio enhance your lifestyle, it will also likely add value to your home. Please let me know if you are thinking about selling. I offer a free market analysis so you can find out how much your home is worth.