If you have any extra money—maybe from a tax return, or a company bonus—and you want to use it to make some decorative improvements to your home, I think that's an excellent choice! Most likely your home is one of the biggest financial investments you'll you will ever make.

Although, decorating may not give you a a dollar-for-dollar profit when the time comes time to sell your home, you will recoup some of the money spent. That said, its wiser to consider what improvements you'll enjoy the most while you still own your home. Below are some of the highest-return projects that also beautify your home.
FRESH COAT OF PAINT
Painting is one of the best upgrades you can make to your house, both inside and outside. If you don't have the time or money to paint the entire exterior of your house, try touching up the trim. That can make a big difference! Also, neutral colors tend to work best for interior paint projects, especially if you're considering selling.
ADDING TREES AND SHRUBS
Keep in mind, curb appeal is one of the most important variables of a home's value, and an empty yard with no greenery to speak of is not very inspiring. Flowering trees and shrubs can make a beautiful addition to your yard and make your property stand out from your neighbors.
NEW HOUSE NUMBERS
Have you ever updated the numbers on your house? There are several options that run well beyond plastic black-and-white numbers from the old days. You can find many decorative and unique house numbers online.
REPLACING LIGHT FIXTURES
Old light fixtures can immediately date a house. It's fairly inexpensive to swap them out, and you can should be able to see dozens of modern options at your local hardware store.
REFINISH KITCHEN CABINETS
The easiest way to give your kitchen a quick makeover is by refinishing your cabinets. There are many ways to look at this: you can paint your cabinets, swap out the drawer pulls and knobs, or replacing the cabinets entirely. If you're not sure about what will look the best while also maintaining a high resale value in your area, talk to me. I can give you an idea of what cabinet trends tend to be classic, which ones age quickly.
BATHROOM COUNTERS
Granite countertops in the bathroom can instantly upgrade the room. Also, if you have the space to add another sink to your bathroom vanity, or replace a depressed countertop sink with a classic glass bowl style that sits on top of the counter, that's an added bonus.
FRONT DOOR
Replacing your front door can be one of the highest dollar-for-dollar changes you can make to your home. You could also simply paint your front door instead of replacing it. That can be a way to almost instantly brighten the entire front of your house. The freshly painted front door can make the entire facade look fresh!
GARAGE DOOR
Just like replacing your front door, replacing your garage door isn't going to cost a lot of money, and you'll be able to get most of that money back it comes time to sell your house. You can do some research by driving around your neighborhood to see what is common. See what you think looks especially nice. This is another area where talking to me about what's best can benefit you.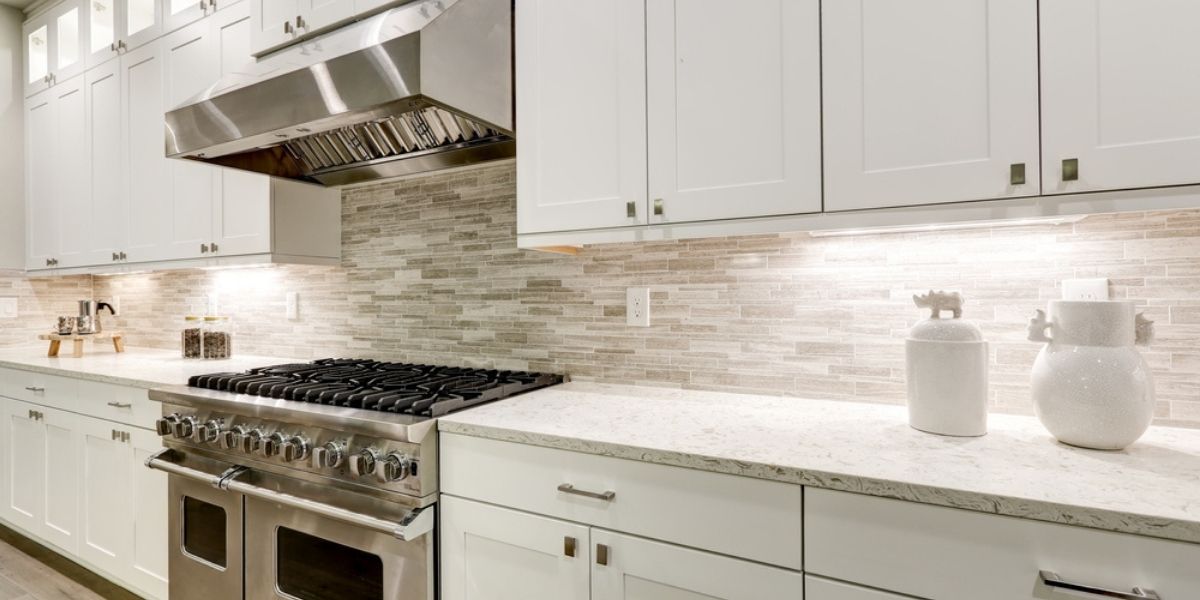 KITCHEN BACKSPLASH
The backsplash in your kitchen is considered to be the space between the bottom of your cabinets and the top of your counters. Depending on when your kitchen was last decorated, this can be a fast and easy "facelift." Tile or glass backsplashes are popular, but I have some ideas around what's typical in our area.
GETTING ORGANIZED
Nobody expects closets to be perfect, but if they're over-stuffed with clothes hanging on a single rack with no drawers or other built-in amenities, then a nice upgrade you can make for yourself and your space is to hire a closet designer to help organize the space.
ADD OUTDOOR LIGHTING
Patio lights and pathway lights are another way to make your home look more inviting in the evening. You can light up the walkway to your front door, and it's as simple as popping them in the ground!
MAKE OUTDOOR AREAS MORE INVITING IN GENERAL
Whether you put in a nice patio, building a deck or creating an outdoor kitchen, homes that have a designated outdoor space for eating and spending time are always popular with buyers. Put some rocking chairs on the porch, get an outdoor dining set and a fire pit to create a space where everyone can lounge during nice weather and warm nights.
UNDER-CABINET LIGHTING IN THE KITCHEN
Adding under-cabinet lights can brighten up a kitchen considerably while providing more illumination on the countertops for food preparation. This is one of those simple additions that you won't realize you needed until you have them!
Whatever home decoration project you embark upon, try to choose something that you will appreciate as the homeowner, as well as considering prospective buyers in the future. Enjoying the improvements you make to your home is the best way to maximize your return on investment, and when the time eventually comes to sell, so don't hesitate to make your own tastes the priority!
Need more information? Contact me